---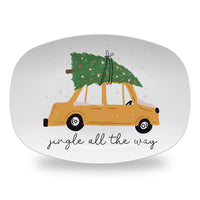 Jingle All the Way Platter (melamine free)
Our platters are perfect for everyday use and because they are break resistant they are also fabulous for outdoor meals.

PLATTER DETAILS
• 10" x 14" ThermoSaf(R)thermoset plastic Serving Platter
• Platter is made from a thermoset plastic - it is NOT ceramic or glass
• You will receive one platter
• Microwave safe
• Safe for use in Convection or Conventional ovens - 300 degrees for up to 45 mins
• Dishwasher-safe – any rack
• Contains NO Melamine or formaldehyde BPA- free
• FDA approved for food contact
• 100% manufactured in the U.S.A. using U.S.A. components

PLATTER CARE
• Never use harsh or abrasive cleaners, steel wool, or scouring pads as they can damage the high gloss finish.
• Do not use serrated knives or other sharp utensils as they can cause scratches or nicks in the surface.
• While completely dishwasher safe, repeated washing can cause colors to fade over time, it is advised to use a normal cycle without heat drying. It is also recommended to hand wash when possible to ensure your colors stay vibrant.


IMPORTANT
We take great pride in ensuring excellent quality on all of our products, however, small defects and flaws can sometimes be found. This reflects the hand-made and unique nature of the printing process used for our products. Small imperfections in the design, while not typical, can occur. These small imperfections, flaws, and defects are sometimes unavoidable.

Faint creases in the design, along the platter edge are inherent to the molding process. These creases are part of the molding process and cannot be avoided, they are usually barely noticeable.


COLORS & VARIATIONS
• Due to monitor display settings and the item's crafted nature, your final product may vary slightly in appearance and color from how it is displayed online. Please allow for these slight differences and variations and take this into consideration when ordering.
• Each item is made to order making each item slightly different, this adds to the uniqueness of handmade items. No two items will be exactly the same.
• Pictures are not of actual item, rather a mockup digitally designed to generate the best and closet representation of what your item will look like. Allow for slight variances
Items are made to order and are estimated to ship 12-15 business days after ordering. Rushes are available - please email me before ordering if a rush is needed: Claire.lovelylittlethings@gmail.com
* this item cannot be returned or exchanged*